Local, Residential, and Commercial Moving
The Best

Dallas
Movers in DFW
Monarca Movers is a highly rated local Dallas moving company that has been satisfying customer's moving needs since 2008.
Local, residential, and commercial moving
The Best
Dallas Movers in DFW
Monarca Movers is one of the many local Dallas moving companies that is seeking to satisfy your moving needs.
Quality Service
Every Time
We offer local, residential, and commercial moving in the DFW area. Our Dallas movers have years of experience, so you can expect excellent service each time.
Our highly trained phone operators will be able to answer any questions you may have over the phone. If your move requires an in-person evaluation, then we can send out one of our trained Dallas movers to provide a more accurate estimate.
Monarca Movers is a Dallas moving company that always puts their customers first. We are here to lend you a helping hand during this change in your life.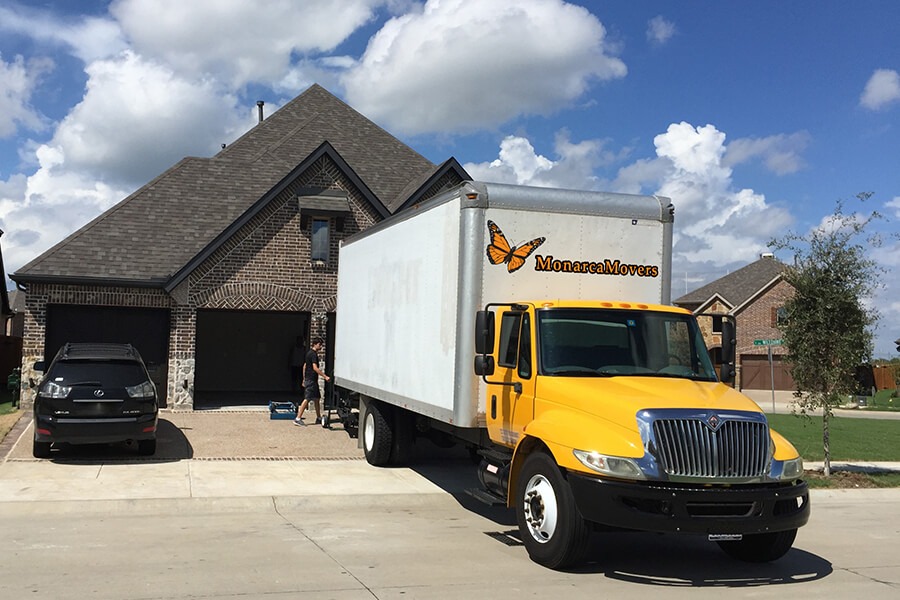 Fully Equipped to Handle any Move
We provide the necessary tools and moving truck that will best meet your needs.
My moving team was kind and friendly despite the the confusion regarding third floor versus second floor confusion and no elevator. No damage done to my property and they helped with a large, heavy Fedex delivery that was left downstairs instead of being delivered upstairs as planned. They are a very personable company to work with.
I very rarely write reviews online but absolutely had to for these guys. They came as a recommendation and would wholeheartedly keep recommending them to others. We've used them twice in 2 years and both times they offered exemplary service. If / when we move again, they would be our first phone call. Quick, efficient, reasonably priced, no sneaky fees, trustworthy, professional and just really nice people to work with.
I had a wonderful experience with Monarca Movers, the most sensitive and cordial people, extremely detailed and careful with my items. My move was perfect thanks to this company. I planned my move in two days and the company somehow made it look so simple, this was the most perfect new beginning for me and my kids. Thank you so much.
I had to move twice in two months this year, and I used Monarca both times. They are amazing for several reasons. I was able to call and schedule movers with less than a few days notice the first time, and able to reschedule my second move date very easily. They were upfront with costs, fees, etc. and provided excellent customer service over the phone. Then in person, my movers were fantastic. They arrived exactly when they said they would and didn't start charging me by the hour until they'd reviewed the plan for the day. I can't stress how friendly and accommodating they were. They were even knowledgeable about my apartment complex, so that helped make things go smoothly too. They had the right equipment, and they made the job look so easy both times. My stuff was well taken care of with no damages. Best of all, they were so fast! It took less than 2.5 hours to move my one bedroom apartment furniture each time, and that included a full size washer and dryer. The second time, they showed up with a third set of hands at no extra charge to me. I was super impressed with this company on every level. They made moving that much more enjoyable. So much, that I was truly looking forward to having them move me the second time. Call Monarca, you will be glad you did!
Great moving company. Punctual, polite and very careful with my items...nothing damaged or scratched and they did the job so quickly. I have actually used this company twice and both experiences were well above average. Thank You, Monarca Movers! Updated-7/2014- Moved again and used the same team! These movers are amazing. Nothing broken, polite 3 person crew and they went above and beyond by installing our washing machine, getting a difficult to place piece of furniture to fit into our media room AND even helped us move a sofa that had been sitting in our garage previously. 3rd move with this company and would use them again in a heart beat. Thanks again, Monarca!
I was very impressed with this company! We moved so many times growing up, and I've never had such a wonderful experience. They are very efficient and strategically place items in the truck. I've been afraid that hourly moving services would result in lots of standing around in order to run up the bill. The exact opposite happened! They came on time and got to work immediately. Within an hour, they had all of my furniture and boxes in the truck and headed to the new place in Irving. The most impressive qualities of this moving service were their work ethic and honesty. They charged me exactly what I owed on the dot. I would recommend this company to anyone moving in the DFW area! My dad is a hard guy to please, and he can't stop singing their praises!
Hats off to the Monarca Movers Team! From beginning to end the entire staff was concise and professional. The quote I was quoted one month in advance is exactly what i paid for on the day of the move. The team arrived promptly and executed the move in a timely manner. I highly recommend Monarca Movers!!!! Thank you!
I had a wonderful experience with Monarca Movers. I received a flat hourly rate without any hidden fees. Audeil and his assistant arrived promptly at 8am, when they said they would arrive, and completed the job in exactly two hours. All of my items arrived in my new home undamaged. I have moved many times and Monarca Movers is definitely the best moving company I have hired.
After All My Sons Moving lied to my girlfriend and I about their prices, we were left without a mover the night before our scheduled move and still on a budget. Monarca came to our rescue, and were exceptional. Scheduling the last-minute move was a breeze over the phone, and they showed up bright and early the next morning on time and ready to go. The leader of our 3 man crew was friendly and pleasant, his team careful and quick. Despite the eleventh hour nature of hour the move, we were treated wonderfully, and they were nice enough to even lug a broken, heavy old washing machine down 3 stories to the dumpster for us. All this for a reasonable price, no unexpected charges, and zero headaches. Our potential crisis was turned in to a boon thanks to Monarca.
As a local Dallas moving company, we specialize in all types of moves in the following cities and the surrounding areas.
• Addison
• Arlington
• Burleson
• Colleyville
• Dallas
• Duncanville
• Fort Worth
• Garland
• Grapevine
• Houston
• Keller
• Lewisville
• McKinney
• Midlothian
• Plano
• Richardson
• Rowlett
• Allen
• Austin
• Carrollton
• Coppell
• Denton
• Flower Mound
• Frisco
• Grand Prairie
• Highland Park
• Irving
• Las Colinas
• Mansfield
• Mesquite
• North Richland Hills
• Red Oak
• Rockwall

Our phone operators are ready to help you with any moving questions you may have.